So...joiner that I am, I too have joined the
Mystery Stole 3
I ordered some Malabrigo Merino Lace weight in the Black Forest color way. It's more green than the black it looks in the online pictures but that's ok. It's lovely yummy yummy yarn. Isn't getting yarn in the mail just the coolest thing ever? I also ordered some knit picks circs since I didn't have any small circulars to knit the stole on.
What? You want to see? Oh fine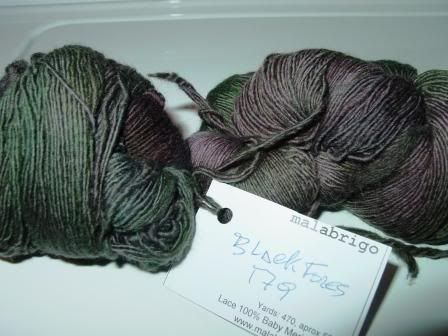 Trust me it looks oh so much yummier in person!
Now the not thinking this little project all the way through part. So I now have 1200 yards of this love lace yarn. Know what I DON"T have? A yarn winder. No problem you say? Wind it by hand? Ok first of all 12oo yards? *sigh* I suppose I could. However. Yes, HOWEVER. This oh so lovely yarn tangles and knots if you so much as breath on it heavily. Ask me how I know? So this will be a challenge. I'm guessing this means it may not frog easily either. Yikes.
The good news is that I did do a small swatch on it for the MS3. It does look pretty spiffy if I do say so myself. (sorry no pic).
So...I'm off to do some serious (but careful) winding. Wish me luck!